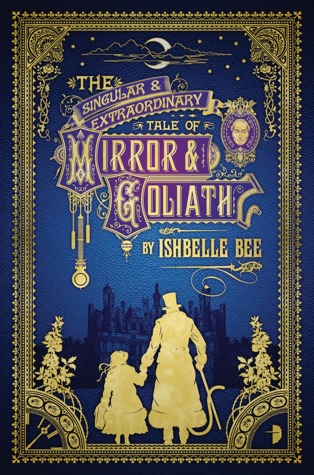 The Singular & Extraordinary Tale of Mirror & Goliath
by Ishbelle Bee
Publisher:
Angry Robot Books
Release Date:
June 30, 2015
Genre: YA, Fantasy, Steampunk
Source: Netgalley/Publisher
Goodreads Synopsis
1888. A little girl called Mirror and her shape-shifting guardian Goliath Honeyflower are washed up on the shores of Victorian England. Something has been wrong with Mirror since the day her grandfather locked her inside a mysterious clock that was painted all over with ladybirds. Mirror does not know what she is, but she knows she is no longer human.
John Loveheart, meanwhile, was not born wicked. But after the sinister death of his parents, he was taken by Mr Fingers, the demon lord of the underworld. Some say he is mad. John would be inclined to agree.
Now Mr Fingers is determined to find the little girl called Mirror, whose flesh he intends to eat, and whose soul is the key to his eternal reign. And John Loveheart has been called by his otherworldly father to help him track Mirror down…
I wish so much I could like this book more. The writing is beautiful, and reminds me so much of all the wonderful fairy-tales of my childhood, but it just lacked
something.
I don't know. Maybe it's just me, but I wish certain scenes were fleshed out a bit more. Things seemed to happen too quickly, and with no real, believable explanation, often leaving me confused as to what just happened.
Also, I couldn't quite get a grip on the characters themselves. I felt disconnected from them, and felt disoriented because this. I wasn't sure how old Mirror was, which was a huge problem for me, because at times I thought she was very young, like six or seven, but then her actions would make me think she was much older. This age thing also gave me problems when it came to Mr. Loveheart. I wasn't sure if he was a grown man or a child.
Even though there were several things I didn't like about this book, I didn't completely hate it. The story overall was really very lovely, and, as I said above, the writing is beautiful and poetic and is more than worth picking this book up.
Until next time,
xox